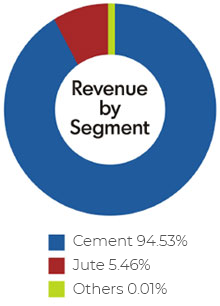 Birla Corporation Limited is the flagship Company of the M.P. Birla Group. Incorporated as Birla Jute Manufacturing Company Limited in 1919, it was Late Mr. Madhav Prasad Birla who gave shape to it. As Chairman of the Company, he transformed it from a manufacturer of jute goods to a leading multi-product corporation with widespread activities. Under the Chairmanship of Mrs. Priyamvada Birla, the Company crossed the Rs. 1,300 - crore turnover mark and the name was changed to Birla Corporation Limited in 1998.
After the demise of Mrs. Priyamvada Birla, the Company continued to consolidate in terms of profitability, competitiveness and growth under the leadership of Mr. Rajendra S. Lodha, late Chairman of the M.P. Birla Group. Under his leadership, the Company posted its best ever results in the years ended 31.3.2006, 31.3.2007 and 31.3.2008. The Company continued to record impressive growth in 2008-09 and 2009-10.
Mr Harsh V Lodha is now Chairman of the Company.
The Company had a turnover of Rs 8,682.27 crores in 2022-23 and a net profit of Rs 40.50 crores.
The Company is primarily engaged in the manufacturing of cement as its core business activity. It has significant presence in the jute goods industry as well.
The Company has acquired 100% shares of Reliance Cement Company Private Limited (Reliance Cement), a subsidiary of Reliance Infrastructure Limited (RIL). After this acquisition, Reliance Cement has become a wholly-owned material subsidiary of Birla Corporation Limited. The entire cement business of RIL has been acquired for an Enterprise Value of Rs. 4,800 crores. This acquisition provides Birla Corporation Limited with the ownership of high-quality assets, taking its total capacity from 10 MTPA to 15.6 MTPA. Presently, the cement capacity is 20 MTPA, following the Mukutban integrated unit going on stream.
Installed Capacity
| Product | Installed Capacity |
| --- | --- |
| Cement | 20 Million Tons |
| Jute Goods | 52,631 Metric Tons |
| Iron & Steel Casting | 3,750 Metric Tons |